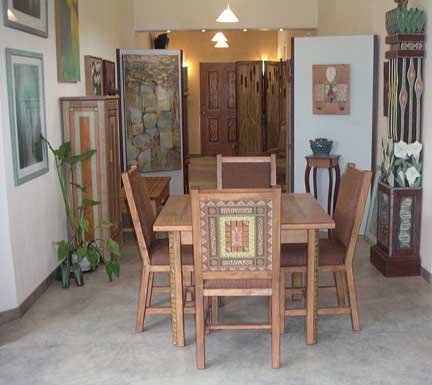 New Location • Interior of Quimera Gallery
By Appointment Only • Santa Fe NM • 505.955.0998
quimera@swcp.com
The threads of inspiration—cultural, aesthetic, and intellectual—which meet in the art of Hillary Riggs are far-reaching and diverse. They begin in the vibrant and deeply imaginative soul of Mexico, where Riggs spent her childhood, and extend to the rarified realm of chaos theory and the complex junctions of history, anthropology, consciousness, and myth. From these roots emerge artworks whose range is equally as broad. Yet they are linked by the artist's penetrating curiosity and insight, and by the strong color and clean design of her signature style.

Over the years Riggs has focused on an evolving series of creative expressions, including decorative design, one-of-a-kind furniture, and conceptually-inspired fine art. Now all these forms may be seen side-by-side in a new gallery, Quimera: The Art of Hillary Riggs. On Palace Avenue just two blocks from the Santa Fe Plaza, the gallery offers a comfortable, inviting atmosphere that complements the artist's own aesthetic vision. It is a move from her previous location on Guadalupe Street, and for the first time provides a space to present all sides of her creative output in one place. As such, the gallery has given Riggs a new perspective on herself as an artist.
The Making of The Pieces

Over the last fifteen years, Riggs has developed a production method based on a Renaissance model, where the pieces, or components of pieces, move between the workshops of highly skilled individual craftsmen. At each location there is a one-on-one, focused relationship between artisan and work.

All the creations are conceived and designed by Riggs. She then directly draws on the wood all images for carving. No templates are used, to prevent duplication of a design. After various phases of production in other workshops, all pieces end up at her studio where she paints and finishes them.
The other workshops involved are:
• Dan Stubbs, woodworker and longtime resident of Santa Fe
• Carlos Rascon, carver, who works out of his workshop in Velarde
• Steve Sovelove, woodworker who lives and works in Dixon
• Desideria Rascon, has a garage workshop at her home in Española where she stains and preps pieces Alex Nugent, Riggs' son, periodically contributes carving skills, ideas and inspiration.